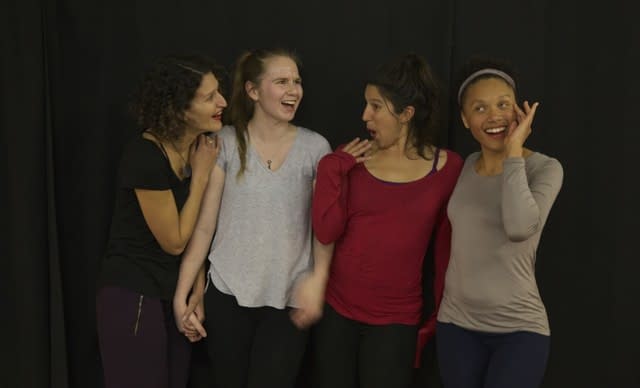 Open Door – Artist Interview
Sophie Thompson is a 23 year old Geelong dance artist and is a recent recipient of our Open Door space grant. Open Door is a subsidised support initiative for local dance artists and choreographers, providing studio time to pursue their craft.  It was a delight to host her recent improvised performance at The Loft Dance & Yoga Studio and we took some time to chat further about her dance practice and what the future holds.
Describe your arts/dance practice and what you are currently working on in the studio?
My dance practice is quite mindful, in that I try not to plan what I will work on until I get into the studio so I can assess how I feel and what my body and creative mind want to work on. Improvisation makes up a big part of my studio time, and in particular I've been working on maintaining presence and attentiveness through solo improvisation. I've also been exploring whether or not a movement has an essence and if it does, where it lies within the movement. My method for exploring this has involved heavy repetition, allowing the movement to morph and evolve of its own accord, then reflecting on whether or not the movement has maintained its essence in this new form. I have also been working on a variety of choreographic sequences in order to develop my creative voice as a dance artist.
Please tell us a little about yourself and your dance background.
I have lived in Geelong my whole life, and have always loved dancing but didn't start technical training until I was 17 years old. I trained at Infinite Dance studios in Geelong, which was an incredibly supportive and nourishing environment for a young dancer. When I finished high school I studied musical theatre and commercial dance full time under Robert Sturrock. This was a very intense and often negative experience, although I definitely value the physical training I received and I learned some important lessons about the commercial/musical theatre world. Following this year of intensive training I moved away from musical theatre and commercial dance and began to explore contemporary dance, which I have found infinitely more rewarding. Since changing pathways I have immersed myself in the contemporary dance world, attending regularly classes, co-founding an improvisational performance collective, and developing my own work.
What's a typical session in the studio look like in terms of your working process?  (Do you take class, warm up, improvise solo, set tasks for dancers, teach routines etc)
I generally begin with gentle floor work as a warm-up, before moving on to stretching and strengthening work. I then move on to solo improvisation, then use any ideas or motifs that came up during the improvisation session to inspire some choreographic phrases.
How is the Open Door grant helping you with your arts practice in Geelong?
The Open Door grant has been enormously helpful with my practice. With much of my dance practice taking place in Melbourne, it was wonderful to have a space to use so close to home. Having a free space to be creative and artistic without pressure or limitation is a wonderful gift.  The grant also assisted in opening up the opportunity to present a performance at The Loft for a small audience, which I did with a group of dancers with whom I dance regularly. It was wonderful to perform in such a warm and safe environment.
Who/What is your dance and movement inspiration?
Lately I have been feeling inspired by the dancers of Bangarra Dance Theatre and Batsheva Dance company. Watching their physical strength and malleability has pushed me to work harder on the way my body internalizes the dance. I also recently saw Faye Driscoll's work 'Thank You for Coming (Attendance)' at Melbourne Festival, which really opened up so many possibilities to me in terms of what a dance performance can be, and what it can mean to an audience. This particular piece has inspired me to work on connecting with audiences on a non-contrived and organic way.
What advice would you like to give Geelong dancers/choreographers who are interested in choreography and making new work?
Just do it! There are lots of ways that performance can be created, so there isn't a "right" path to go down. I would encourage dancers and performance makers to go down the path that they are intuitively led towards, and not create work based on trend or marketability; the size of the audience should be secondary to artistic integrity. If a piece is made with honesty and love, it will work.